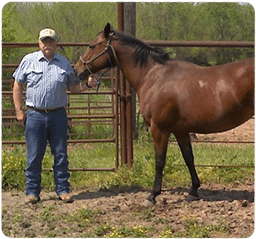 Equine Wellness Care in Louisburg
A horse can live to be 25-30 years old, but to help one live up to its life expectancy, they need regular professional veterinary care. Town & Country Equine & Pet Hospital is committed to making and keeping horses well through every life stage and meeting all of their healthcare needs. That's why we offer a number of equine services designed to keep your horse healthy and prevent illnesses from developing. These services include:
Deworming
Wellness packages
Parasite prevention
Vaccinations
Coggins testing
Health certificates and equine passports
Laboratory testing
If you're a first-time horse owner, or if you just have questions about how to best care for your horse, we can provide consultation on a variety of equine care topics.
Equine Vaccinations
Town & Country Equine & Pet Hospital adheres to the vaccination guidelines set forth by the American Association of Equine Practitioners (AAEP). The core vaccines outlined by the AAEP are Eastern and Western encephalomyelitis, rabies, tetanus, and West Nile Virus. Core vaccinations are defined as those "that protect from diseases that are endemic to a region, those with potential public health significance, required by law, virulent/highly infectious, and/or those posing a risk of severe disease. Core vaccines have clearly demonstrated efficacy and safety, and thus exhibit a high enough level of patient benefit and low enough level of risk to justify their use in the majority of patients."
Additionally, our doctors may recommend other vaccines to protect against diseases. Common diseases we may protect horses against include strangles, equine influenza virus, and equine herpes virus. After a risk-based assessment examining several factors, we may recommend additional vaccines. We especially take your pet's activity level and exposure to other horses into account.
The American Association of Equine Practitioners is an excellent resource for veterinarians and horse owners alike. For those interested, AAEP guidelines can be reviewed at the AAEP website.